PRODUCTS
CONTACT US
Ningbo Haishu Nide International Co., Ltd.
一一
· Add:14-5, East Kemao Center, No.100 Xiangyun Road, Hi-tech District, Ningbo 315040, China.
· Contact person:Annie
· Tel:0086-574-87295639
· Mob:0086-13738869026
· Fax:0086-574-87295637
· Email:emarketing@nide-group.com;sales@nide-group.com.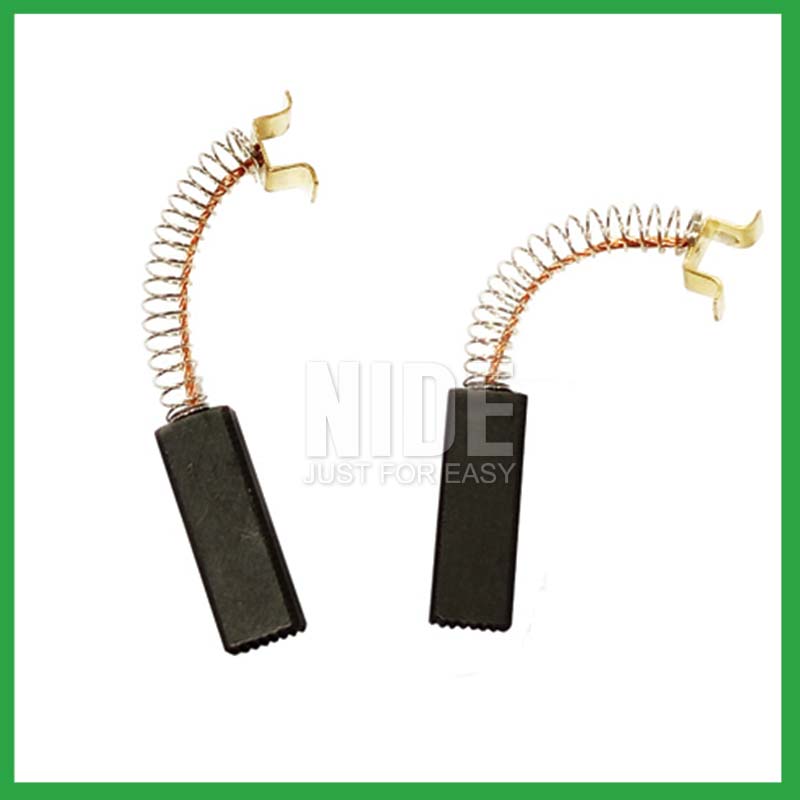 Details
Nide is specialized in carbon brush produce. Nide possess a complete set of advanced and special equipment for carbon brush production and inspection to guarantee our quality. Nide team will provide customers with advanced technology, first class quality and best service, will be always at your service.
Technical requirement

Material

Model

resistance

Bulk density

Rated current density

Rockwell hardness

loading

Natural graphite

S3

11±30%

1.66±10%

11

77(-60%~+22%)

60KG

G4

15±30%

1.73±10%

11

83(-60%~+22%)

60KG

Advantage: running stable, temperature rising slow

Application: suitable for 80-120V DC motor
Carbon brush features
1) Good quality
2) small spark
3) low noise
4) long duration
5) good lubrication performance
6) good electric conductivity
Information needed for carbon brush inquiry:
It will be better if customer could send us detailed drawing including below information.
1. Carbon brush dimension: length, width, height, lead wire length
2. Carbon brush material:
3. Carbon brush voltage and current requirement.
4. Carbon brush applications
5. Required quantity
6. Other technical requirement.
If possible, it will better if customer could send us samples.


Youtube: https://www.youtube.com/user/nida0606
Facebook: https://www.facebook.com/NideGroup
Linkedin: https://www.linkedin.com/company/nide-mechanical
Twitter: https://twitter.com/Nide_Group
Instagram: https://www.instagram.com/nidegroup/


Contatct us
Ningbo Nide Mechanical Equipment Co., Ltd.

Contact:Annie
Tel: 0086-574-87295639
Mob: 0086-13738869026
Fax: 0086-574-87295637
Email: emarketing@nide-group.com
Address:14-5, East Kemao Center, No.100 Xiangyun Road, Hi-tech District, Ningbo , China.