PRODUCTS
CONTACT US
Ningbo Haishu Nide International Co., Ltd.
一一
· Add:14-5, East Kemao Center, No.100 Xiangyun Road, Hi-tech District, Ningbo 315040, China.
· Contact person:Annie
· Tel:0086-574-87295639
· Mob:0086-13738869026
· Fax:0086-574-87295637
· Email:emarketing@nide-group.com;sales@nide-group.com.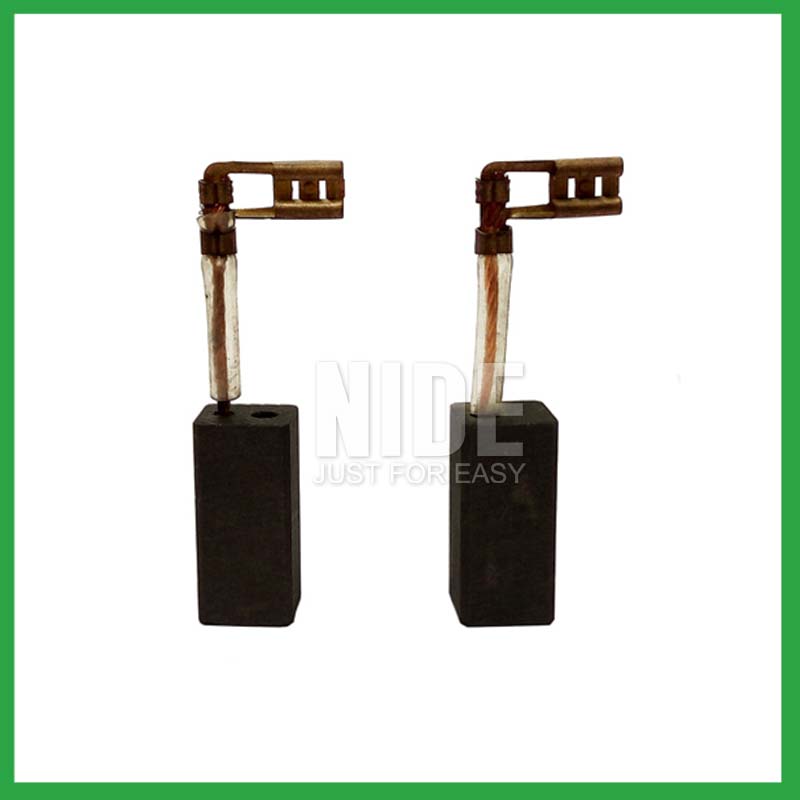 Appliances Application Carbon Brush
CONTACT US
Details
We make various kinds of carbon brush as per customer's drawing and samples.
Our carbon brush is widely applied the different industrials.
1) The carbon brush for power tools: electro motors, grinding machines, drilling machines, hammers, electrical planer ect.
2) Carbon brush for household appliances: air conditioning, or other household appliances.
3) Carbon brush for automotive industry: windscreen wipers, fan window lifts, ABS baking systems, etc.
4) Carbon brush for motors which commutator can not be used.
5) Carbon brush for small and special motor.
Technical requirement

Material

Model

resistance

Bulk density

Rated current density

Rockwell hardness

loading

Copper
(low content) and graphite

J220

6±50%

2.23±10%

12

90(-46%~+40%)

40KG

J280

7±30%

2.3±10%

12

80(-60%~+30%)

60KG

J203

8.8±50%

2.21±10%

12

75(-60%~+20%)

60KG

Advantage: good lubricity and duration, low sliding noise, it can form a surface film fast.

Application: suitable for permanent magnet DC micro motor under 48V, starter motor under 28V.
Competitive advantages
1.We directly supply our carbon brushes to many countries, like USA, France, Turkey, Iran, India, Brazil, Argentina, Mexico etc.
2. Our carbon brush has a wide application, such as automotive industry, household appliances, hammers, planers and etc.
3. We have a wide range of carbon brush.
4. We could customize carbon brush for our customer.
Information needed for carbon brush inquiry:
It will be better if customer could send us detailed drawing including below information.
1. Carbon brush dimension: length, width, height, lead wire length
2. Carbon brush material:
3. Carbon brush voltage and current requirement.
4. Carbon brush applications
5. Required quantity
6. Other technical requirement.


Youtube: https://www.youtube.com/user/nida0606
Facebook: https://www.facebook.com/NideGroup
Linkedin: https://www.linkedin.com/company/nide-mechanical
Twitter: https://twitter.com/Nide_Group
Instagram: https://www.instagram.com/nidegroup/


Contatct us
Ningbo Nide Mechanical Equipment Co., Ltd.

Contact:Annie
Tel: 0086-574-87295639
Mob: 0086-13738869026
Fax: 0086-574-87295637
Email: emarketing@nide-group.com
Address:14-5, East Kemao Center, No.100 Xiangyun Road, Hi-tech District, Ningbo , China.