PRODUCTS
CONTACT US
Ningbo Haishu Nide International Co., Ltd.
一一
· Add:14-5, East Kemao Center, No.100 Xiangyun Road, Hi-tech District, Ningbo, China.
· Contact person:Annie
· Tel:0086-574-87295639
· Mob:0086-13738869026
· Fax:0086-574-87295637
· Email:emarketing@nide-group.com;marketing@nide-group.com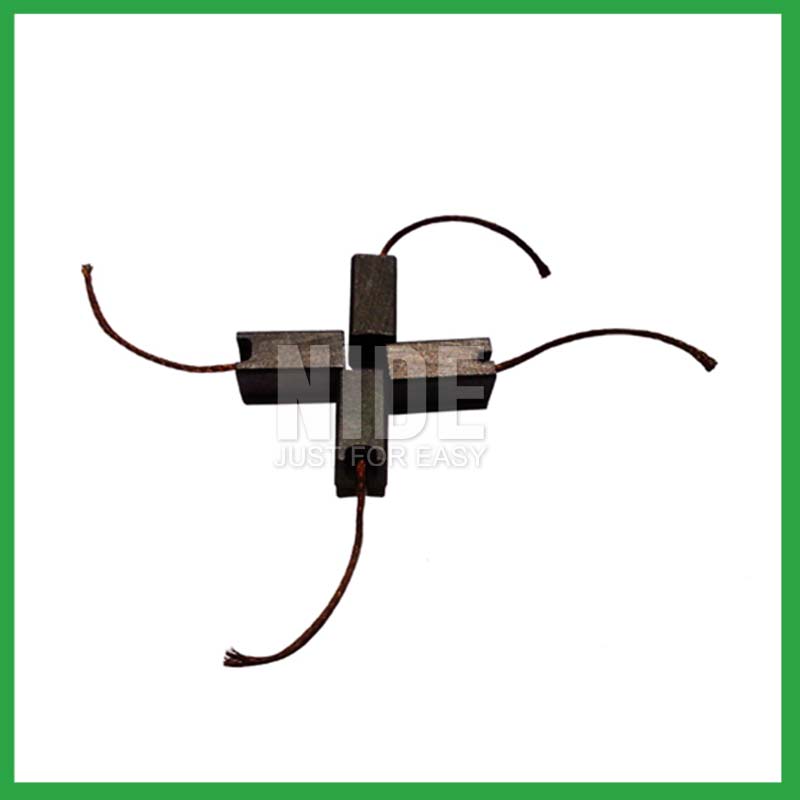 Long life and low noise motor carbon brush
NDPJ-TS-6
We make various kinds of carbon brush as per customer's drawing and samples.
CONTACT US
Details
Long life and low noise motor carbon brush
Our carbon brush is widely applied the different industrials.
1) The carbon brush for power tools: electro motors, grinding machines, drilling machines, hammers, electrical planer ect.
2) Carbon brush for household appliances: air conditioning, or other household appliances.
3) Carbon brush for automotive industry: windscreen wipers, fan window lifts, ABS baking systems, etc.
4) Carbon brush for motors which commutator can not be used.
5) Carbon brush for small and special motor.
Material

Model

resistance

Bulk density

Rated current density

Rockwell hardness

loading

Copper

(Medium content) and graphite

J201

3.5±60%

2.95±10%

15

90(-29%~+14%)

60KG

J204

0.6±60%

4.04±10%

15

60KG

J263

0.9±60%

3.56±10%

15

90(-23%~+11%)

60KG

J205

6±60%

3.2±10%

15

87(-50%~+20%)

60KG

J260

1.8±30%

2.76±10%

15

93(-30%~+10%)

60KG

J270

3.6±30%

2.9±10%

15

93(-30%~+10%)

60KG
medium copper content, it will form a stable surface film.
suitable for industrial motor lower than 60V, 12-24V DC generator motor, medium capacity inducing electromotor, low voltage generator motor.
5) good lubrication performance
6) good electric conductivity
Information needed for carbon brush inquiry:
It will be better if customer could send us detailed drawing including below information.
1. Carbon brush dimension: length, width, height, lead wire length
2. Carbon brush material:
3. Carbon brush voltage and current requirement.
4. Carbon brush applications
6. Other technical requirement.
If possible, it will better if customer could send us samples.
We have a wide range of carbon brush. Our carbon brush has a wide application, such as automotive industry, household appliances, hammers, planers and etc. We directly supply our carbon brushes to many countries, like USA, France, Turkey, Iran, India, Brazil, Argentina, Mexico etc. We could customize carbon brush for our customer.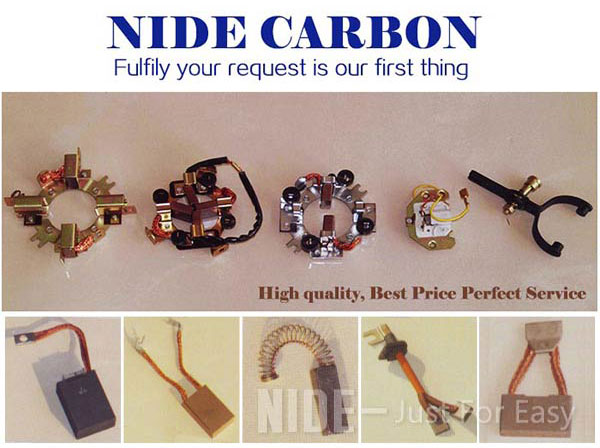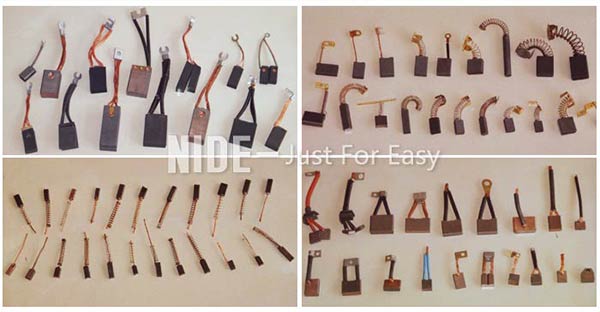 About Motor component and accessories
NIDE can supply the full range of electric motor components such as commutator, ball bearing, thermal protector, carbon brush, insulation paper, shaft, magnet, fan, motor cover,etc.